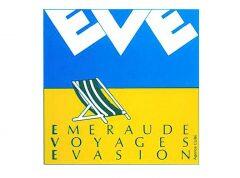 Emeraude Voyages Evasion
Travel Agents , Shops and services
in Dol-de-Bretagne
Your privileged partner since 1932.
Brittany, Normandy, Jersey.
30 hotels in commercialization on Saint-Malo.
Organization of days, weekends, congresses, stays and circuits all destinations (regional, national and international)
International tourism. Coach, Plane, Boat

Networks NationalTours and Sélectour, Meet Member Brittany

EXCLUSIVE SAINT-MALO! LIVE BOOKING
Packages, weekends and all inclusive stays.
Sea crossings Jersey, sea promenade, day trip, Mont-Saint-Michel ...
Accepted customers

Group visits

Votre partenaire privilégié depuis 1932.
Bretagne, Normandie, Jersey.
30 hôtels en commercialisation sur Saint-Malo.
Organisation de journées, week-ends, congrès, séjours et circuits toutes destinations (régionale, nationale et internationale)
Tourisme international. Autocar, Avion, Bateau

Réseaux NationalTours et Sélectour, Réunir Membre Bretagne

EXCLUSIF SAINT-MALO ! RESERVATION EN DIRECT
Forfaits, week-ends et séjours tout compris.
Traversées maritimes Jersey, promenade en mer, excursion journée, Mont-Saint-Michel...
Tuesday

9:15 AM - 12:15 PM

2:15 PM - 6:15 PM

Wednesday

9:15 AM - 12:15 PM

2:15 PM - 6:15 PM

Thursday

9:15 AM - 12:15 PM

2:15 PM - 6:15 PM

Friday

9:15 AM - 12:15 PM

2:15 PM - 6:15 PM

Saturday

9:15 AM - 12:15 PM