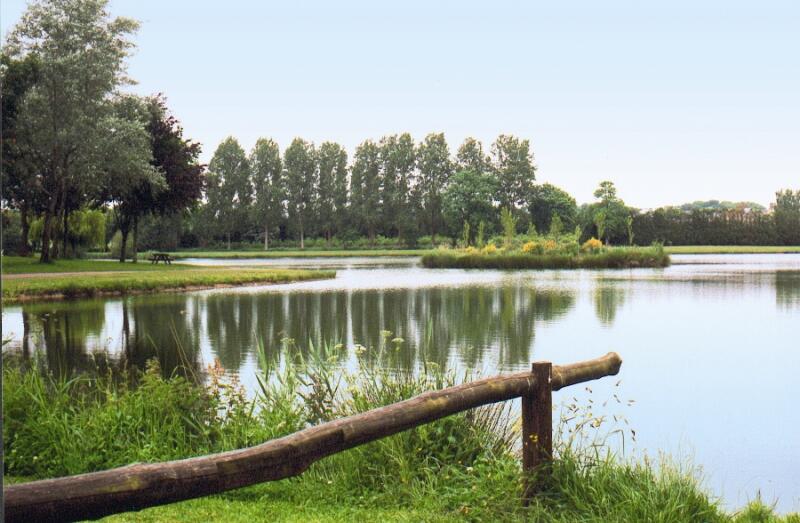 Baie du Mont-Saint-Michel : Circuit du Bocage n°1
Touring cyclist
at Pleine-Fougères
Documentation

GPX / KML files allow you to export the trail of your hike to your GPS (or other navigation tool)
Points of interest
Remonter vers le centre bourg et l'église. Assez récente (19e-20e siècles), son originalité est due à son clocher de forme massée avec un fronton triangulaire. A voir : les pierres tombales à l'intérieur. Prendre la direction de Sains, et observer le manoir du Chauffaut sur votre droite : jolie tourelle d'angle surmontée d'un clocheton en ardoises. Suivre la D89 jusqu'au bourg de Sains. A 2 km, (en option), la route qui mène à la lande de Montomblay vous emmènera à un magnifique point de vue sur la Baie et le Mont-Saint-Michel !
Dans le bourg, contourner l'église (beau vitrail - 1875 - à l'intérieur) en direction de l'étang du Pas Gérault. Un peu plus loin, suivre le panneau de randonnée sur votre droite pour rejoindre l'étang.
L'étang est un lieu idéal pour la détente; on y pêche des anguilles, carpes, gardons...Les libellules et papillons y sont très présents, tout comme les oiseaux (martins pêcheurs). L'aire de pique-nique vous incite à la pause. Possibilité d'en faire le tour à pied. Reprendre la route vers le Val au Banel, jolie vallée ombragée, très bucolique... En bas de la vallée, prendre à droite puis à gauche vers les Rousselières et les Tertres de la Claye. Attention à la traversée de la RD 576. Point de vue panoramique sur la plaine. Une belle descente vous emmène jusqu'à la Chénardais (calvaire). Rejoindre Broualan par la Ville Cavou. A La Guinvray, possibilité de couper vers Trans-la-Forêt : jolie campagne marécageuse.
Les plus courageux iront jusqu'à Broualan en passant par le prieuré du Brégain (privé) d'où ils auront un beau panorama sur la Baie et le Pays de Dol. Le Brégain (13e-15e siècles) appartenait au 12e siècle aux moines bénédictins de Saint-Florent, puis aux Jésuites de Rennes au 17e siècle. Il abrite une chapelle en son sommet, sans doute dédiée à Saint Michel. C'est aujourd'hui une exploitation agricole.
Ce joli village présente un bel ensemble architectural : l'église Notre-Dame-de-Toutes-Joies (fin 15e-début 16e siècle), le calvaire (début 17e siècle) qui porte à sa base l'écusson des seigneurs de Landal. Elle est illustrée de la crucifixion vers le levant et de la Vierge et l'enfant vers le couchant. Originalité locale : la culture de tabac. La récolte démarre autour de la mi-juillet et se termine en septembre. Reprendre la route vers Le Grand Montviel, puis la Magentais. Traverser la D155 vers Montmoy et aller jusqu'à Trans-la-Forêt.
À l'arrivée dans le bourg, poursuivre rue de Villemée jusqu'à l'église qui conserve des statues classées et un autel érigé en pierre locale. La proximité de la forêt de Villecartier a favorisé le développement des sabotiers sur la commune. À visiter : la Maison du sabot (accès libre) qui retrace l'histoire et la vie des sabotiers. Prendre la direction de Vieux-Viel et passer devant le superbe manoir (privé) du Châtelier à environ 3 km. Beau point de vue sur la Baie à Labaponce au croisement avec la RD 83.
L'église Saint-Martin (1850) possède une grosse cloche de 999 kg qui porte le nom d'Anne-Marie Eugénie de Vieux-Viel ; les 2 autres, parrainées par les habitants s'appellent Félicité et Désirée. Rejoindre Pleine-Fougères par la D89.
Leave a review about Baie Du Mont-Saint-Michel : Circuit Du Bocage N°1 :
Bad

Average

Good

Very good

Excellent
There is no review about Baie Du Mont-Saint-Michel : Circuit Du Bocage N°1, be the first to leave one !