Circuit de La Bouhourdais1
at Saint-Domineuc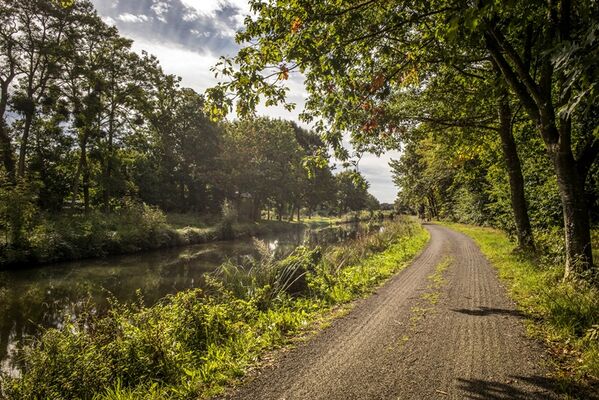 ©Rodolphe Marics
©Rodolphe Marics
Documentation

GPX / KML files allow you to export the trail of your hike to your GPS (or other navigation tool)
Points of interest
1
L'ÉGLISE SAINT-DOCMAËL (XIIIe et XIXe siècles)
L'origine de cette église, en forme de croix, remonte à l'époque romane. La nef conserve deux fenêtres en meurtrières romanes et la porte sud, en arc brisé, est surmontée également d'une petite fenêtre en meurtrière de cette époque.
2
LE CANAL D'ILLE-ET-RANCE
En 1812, débute à Saint-Domineuc la construction du canal. Son creusement représentait à l'époque un travail de Titan, effectué à la pelle et à la pioche par les prisonniers et les mendiants des communes traversées. Au début, le canal permit d'acheminer des engrais marins en provenance de l'estuaire de la Rance ainsi que différentes denrées : avoine, charbon britannique, bois, pommes, foins, épicerie. En 1880, environ 2000 bateaux passaient les écluses transportant environ 40 tonnes par chaland.
Sur le circuit, vous pourrez voir les écluses et maisons éclusières de Couëdan, Calaudry et du Pont Houitte.
4
LE MANOIR DE LA RAMEE (privé)
Situé entre l'écluse de Couëdan et de Calaudry, le manoir est un grand corps de logis du XVIIe siècle avec des ouvertures cintrées au rez-de-chaussée et de jolis frontons de gerbières. Il possédait jadis une chapelle privée, aujourd'hui disparue.
5
L'ÉCLUSE DU PONT HOUITTE
Une trentaine de maisons éclusières est toujours en activité sur le canal d'Ille-et-Rance. L'éclusier a pour mission d'assurer le passage des bateaux dans les meilleures conditions de sécurité possibles, tout en veillant à la fluidité du trafic fluvial. Il vit dans la maison située près de l'écluse : c'est son logement de fonction. Certaines maisons éclusières fermées ont trouvé de nouvelles vocations de restauration ou d'hébergement.
©Rodolphe Marics
©Rodolphe Marics
Leave a review about Circuit De La Bouhourdais1 :
Bad

Average

Good

Very good

Excellent
There is no review about Circuit De La Bouhourdais1, be the first to leave one !