Circuit des chalets et de l'étang de Bazouges
at Hédé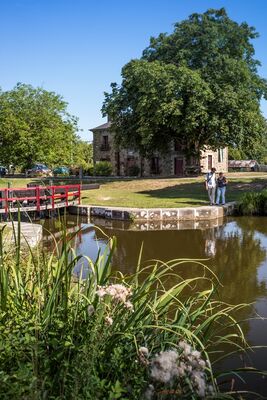 ©Rodolphe Marics
Documentation

GPX / KML files allow you to export the trail of your hike to your GPS (or other navigation tool)
Points of interest
1
LE SITE DES ONZE ECLUSES ET LA MAISON DU CANAL
Un canal et ses écluses, c'est comme un immense escalier d'eau pour bateaux. À Hédé-Bazouges, l'escalier est raide et les marches sont rapprochées : onze écluses à emprunter pour monter ou descendre 27 mètres de dénivelé en seulement 2 km ! À visiter : La Maison du Canal située dans la maison éclusière de La Magdeleine, au cœur des 11 écluses, retrace la construction et la vie du canal d'Ille-et-Rance.
2
LES CHALETS ET L'ETANG DE BAZOUGES
Dans l'entre deux-guerres, de nombreux citadins venant de Rennes empruntent le « petit tacot » (ligne de tramway reliant Rennes à Miniac-Morvan entre 1901 et 1950) jusqu'à Hédé pour pêcher dans les étangs de Bazouges, La Bézardière ou de Hédé. Des terrains sont accordés par bail par les Domaines à des particuliers qui bâtissent des chalets sur les rives de l'étang de Bazouges dans les années 1920-1930, dont quelques-uns existent encore.
Un peu à l'écart, la maison sur pilotis (à l'origine abri à bateau édifié durant l'entre-deux-guerres) est le chalet le plus curieux d'entre eux. Entouré d'un large balcon donnant sur l'étang, accessible par un ponton de bois, il est comme suspendu au-dessus de l'eau. Cette maison sert aujourd'hui de résidence d'artistes (peintres, photographes, écrivains, cinéastes, etc.).
4
L'EGLISE SAINT-MARTIN DE BAZOUGES-SOUS-HEDE
Bien que ses parties les plus anciennes remontent à la période romane (mur nord du XIe siècle), l'église est une reconstruction du XVIe siècle, de style flamboyant, avec porches d'époque. Plusieurs parties de l'église ont été restaurées en 1846 ainsi que le clocher en 1920. L'intérieur de l'église est remarquable. Elle possède un gisant du XVe siècle en granit inscrit à l'inventaire des Monuments Historiques.
©Rodolphe Marics
Leave a review about Circuit Des Chalets Et De L'Étang De Bazouges :
Bad

Average

Good

Very good

Excellent
There is no review about Circuit Des Chalets Et De L'Étang De Bazouges, be the first to leave one !