Circuit du Pont à l'Abbesse
at Tinténiac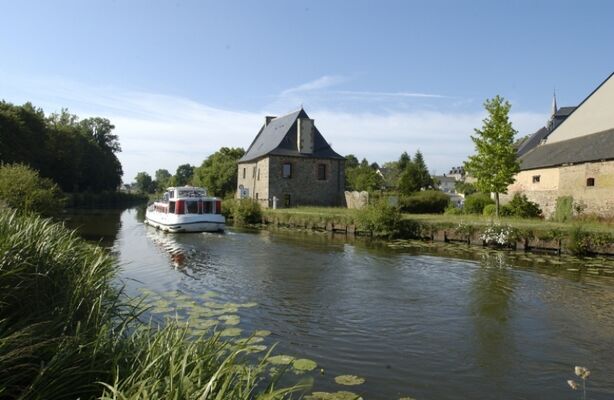 ©Région Bretagne Service de l'Inventaire du Patrimoine Culturel
Documentation

GPX / KML files allow you to export the trail of your hike to your GPS (or other navigation tool)
Points of interest
1
L'ECLUSE DU PONT A L'ABBESSE
La construction du canal d'Ille-et-Rance entre 1804 et 1832 a favorisé le développement économique de la commune en desservant la tannerie et la minoterie situées aux abords du canal, au Pont à l'Abbesse. Le site d'écluse du Pont à l'Abbesse a été le lieu d'un important trafic de marchandises : grain, bois, charbon, fagots destinés aux boulangers des villes de Rennes, Dinan et Saint-Malo.
2
LE MUSEE DE L'OUTIL ET DES METIERS
En bordure du canal, d'anciens magasins à grains ont été transformés en Musée de l'Outil et des Métiers, abritant des collections importantes d'outils, matériel mis en situation pour reconstituer les ateliers des artisans ruraux.
3
L'ECLUSE DE LA GROMILLAIS
En chemin, vous découvrirez l'écluse de La Gromillais. Seuls les bateaux de plaisance naviguent encore sur le canal. Lors de sa construction, un escalier de 11 écluses a été construit, pour permettre aux bateaux le franchissement de 27m de dénivellation.
4
L'EGLISE DE QUEBRIAC ET SON CLOCHER TORS (XIIe siècle – 1993)
Observez le sommet du clocher. Il semble légèrement vrillé vers la droite. Mais non, il est véritablement tordu d'un huitième de tour et fait partie de la cinquantaine de clochers tors répertoriés à ce jour en Europe et le seul en Bretagne.
Au cours de la balade, vous longerez l'étang de Rolin qui alimentait un ancien moulin à eau.
L'église de la Sainte Trinité construite par l'architecte Regnault au début du XXe siècle, est un élément majeur du patrimoine de la commune. De style romano-byzantin, elle possède des caractéristiques très particulières : clochetons, coupoles, lanternes.
Tinténiac était réputée en France et en Europe pour le commerce et l'industrie de toiles de lin ou de chanvre, qui lui apportèrent la prospérité du XIVe siècle jusqu'à la fin du XVIIe siècle. À voir : les gerbières du XVIe siècle sculptées rue Nationale (fenêtre de toit donnant dans le grenier par lesquelles on faisait passer les fagots) ; les maisons à porche, le manoir de la Grand Cour (XVe siècle, rue des Dames), le « logis-porche » (XVe siècle, Place de l'Auditoire), l'ancien grenier à sel (XVIe siècle ; 11, rue de l'Écotay).
©Région Bretagne Service de l'Inventaire du Patrimoine Culturel
Leave a review about Circuit Du Pont À L'Abbesse :
Bad

Average

Good

Very good

Excellent
There is no review about Circuit Du Pont À L'Abbesse, be the first to leave one !