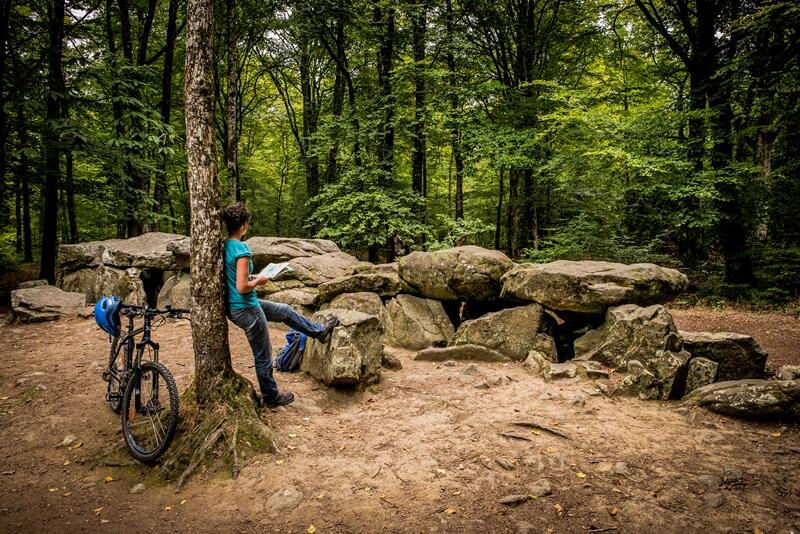 Circuit de La Roche aux Fées
in Mesnil-Roc'h
Documentation

GPX / KML files allow you to export the trail of your hike to your GPS (or other navigation tool)
Points of interest
L'église construite en 1887, en remplacement de l'ancienne église du XVe siècle, est l'œuvre de l'architecte Arthur Régnault. Observez le clocher à bulbes néo-byzantin et le chœur en forme de dôme.
2
LE CALVAIRE DU BAS ROUAULT
Le Bas Rouault est l'un des principaux villages de Tressé. La majorité du bâti est datable du XIXe siècle. Entre 1986 et 1987, des fouilles archéologiques ont mis à jour un atelier gallo-romain de tuiliers au sud du village. Cette croix de mission fut érigée en 1904, lors d'une campagne d'évangélisation.
La forêt du Mesnil (592 ha) a été la propriété du célèbre corsaire malouin Robert Surcouf avant d'être rachetée par l'État en 1933. Elle est composée de trois quarts d'arbres feuillus (avec une majorité de chênes et de hêtres) et d'un quart de résineux (pins sylvestres, épicéas…).
4
L'ALLEE COUVERTE DE LA ROCHE AUX FEES
Les allées couvertes étaient des tombes collectives qui pouvaient servir pendant plusieurs siècles. Celle-ci a été fouillée et restaurée au cours des années 1930 par R. Mond. Des sculptures en relief, des seins gravés, un squelette ainsi que plusieurs poteries ont été découverts. Observez les sculptures des seins et colliers sur les vestiges de la chambre. Elles symbolisent le culte de la Déesse Mère, et sont à l'origine de la croyance en la Maison des Fées.
Leave a review about Circuit De La Roche Aux Fées :
Bad

Average

Good

Very good

Excellent
There is no review about Circuit De La Roche Aux Fées, be the first to leave one !