Circuit des Grèves et Marais
Walking/pedestrian
at Cherrueix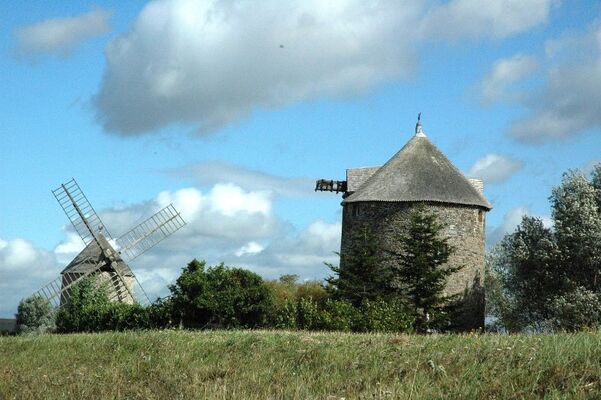 GIT
Documentation

GPX / KML files allow you to export the trail of your hike to your GPS (or other navigation tool)
Points of interest
L'église Notre Dame de l'Assomption est située au coeur du village. La partie la plus ancienne, le mur Nord de la nef, date du XIè siècle. La chapelle remonte au XIVè siècle, mais ce n'est qu'aux XV et XVIè siècles qu'elle fut entièrement terminée.
Après le camping, tourner à droite dans un chemin qui longe l'essai du Bois Robin (Canal de drainage). Ce sentier chemine dans le marais blanc et les fossés et les biefs. Suivre ce fossé sur environ 3 km. La terre du marais blanc formé d'alluvion marine, la tangue, est de couleur gris clair. Cette terre sablonneuse permet de cultiver des céréales, plantes fourragères et des légumes (Ail, oignon, échalote, carotte, asperge...).
Face à la grève et à la mer, le long de la digue vous pourrez voir trois moulins à vent du 19ème siècle. Le moulin de la Saline (1827) propriété de la commune, a bénéficié d'une restauration des ailes et de la toiture-charpente. Vous y trouverez la maison des produits du terroir et de la gastronomie qui propose une exposition interactive à la découverte des produits locaux ainsi qu'une boutique.
Les grèves qui s'étendent à perte de vue dans la baie sont le lieux idéal pour la pratique du char à voile.
GIT
Leave a review about Circuit Des Grèves Et Marais :
Bad

Average

Good

Very good

Excellent
There is no review about Circuit Des Grèves Et Marais, be the first to leave one !