Glacier Le Sanchez
Restaurant , Tea Room / Glacier / Chocolatier , Tea Room
at Saint-Malo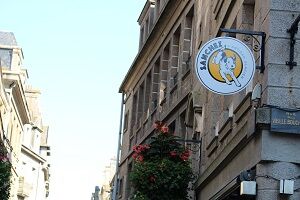 ©OT Saint-Malo BMSM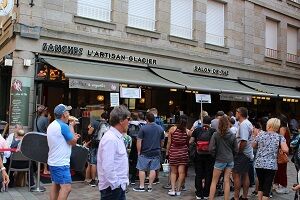 ©OT Saint-Malo BMSM
Homemade icecream.
Specialties: nougat ice cream with salted butter, sweet and salted pies/tarts.
Breakfast, tea time.

Open daily from April to September and french school holidays.

Capacity

People :

50 place setting

Spoken languages
Accessibility

Equipment

Services
Openings

From

January 1, 2020

until

January 5, 2020
©OT Saint-Malo BMSM
©OT Saint-Malo BMSM
Leave a review about Glacier Le Sanchez :
Bad

Average

Good

Very good

Excellent
Originalité et diversité !

Nous avons adoré ce glacier pour le grand choix de ses parfums, quelque uns classiques mais pour la plupart très originaux. De plus, les boules sont très généreuses pour le prix que l'on paye !!! Seul petit bémol qui ne me laisse pas mettre la note maximale : petit point négatif sur l'amabilité et l'accueil des serveurs, à l'extérieur du moins.

glace au yaourt ou fraise tagada très bonnes. Allez y faire un tour vous y trouverez votre bonheur !

As well as its wide variety of ice creams, Sanchez is one of the relatively few places you can get breakfast in the old town. If you eschew breakfast at your hotel, you can find yourself wandering round looking in vain for somewhere open at that time of the morning. Sanchez does a set breakfast of croissant/pain au chocolat, bread, jam, butter, orange juice and bottomless tea/coffee/hot chocolate for just under 10 Euros. Very reasonable and a nice location to have breakfast on the terrace and watch the world go by.

Comme sa belle et grosse glace que je déguste la super Sanchez est trop bonne la mega est pareil trop top pour l'été ou quand il fait bon hors saison

Nous avons été bien reçu j ai pris une Royal ma femme je sais plus mais on s est régalé a la fin on a eu du mal a digéré mais c est pas a cause de la qualité Non ! mais plutôt la quantité.

Les glaces sont bonnes mais c'est l'usine. L'accueil s'en ressent. Les clients sont presque des numéros ça manque un peu de chaleur humaine. Quand la notoriété supplante l'aspect convivial !!!!

Nous sommes allés deux fois au Sanchez. Deux fois en salle, la première fois prendre des glaces et la seconde fois pour dîner et terminer en beauté sur une glace. A chaque ce fut excellent ! L'accueil fut vraiment bien, le service extrêmement rapide, rien à redire !

bonnes glaces acceuil limite

un très grand choix de glace artisanales très très bonne mais des personnes peu acceuillantes! peut etre sommes nous tombés sur un mauvais jour...

Beaucoup de choix de parfums , glace plutot bonne, le hic c'est l'acceuil aussi glacial que les glaces des vendeurs (ses) , nous n'étions que deux familles devant le stand donc pas de coup de bourre ni de quoi justifier ce manque total d'aimabilité . Dommage !!!

un tres grand moment du petit dejeuner en passant par les glaces en coupe ou a emporter les tourtes salées aussi il est vrai que l'acceuil peut surprendre mais faisant parti du metier je pense que sur les coups de feu ils essaient de faire de leur mieux

Un accueil déplorable et des serveurs pas diplomates (NUL) Glaces des délices

Glaces de très bonne qualité et un choix de parfums impressionnant....... Malheureusement l'accueil n'est pas à la hauteur dès le "bonjour" on risque l'incident sans raison et de manière habituelle...une attitude simplement correcte nous permettrait de revenir sans appréhension !!!!! il faut vraiment que ces glaces soient bonnes pour oser braver les vendeurs(ses)

Impossible de venir à Saint Malo sant gouter à leurs glaces !! un choix impressionnant, et ils ne lésinent pas sur la quantité !!

les coupes glacees sont enormes, a tomber. Sans aucun doute le meilleur glacier de St malo. Salle tres agreable et service sympatique

Les meilleures glaces de la région, un choix de parfum hallucinant! Arrêt obligatoire pour tous les gourmands.